Talbott Farms is located in Palisade, Colorado which is west of Denver and just slightly east of Grand Junction. Our family continues to build upon a century long tradition of growing and harvesting crops from our peach and pear orchards and vineyards. And now, Centennial Cellars is the fruit of our enduring commitment to quality.
Our mission, simply stated, is to "produce value from the land" and we strive every day to conduct our business in a wholesome and sustainable manner that allows us to deliver this value to customers across our nation.
Our History
For over 100 years and five generations, the Talbott family has worked, nurtured and sustained this special land located near the headwaters of the Colorado River. Our family tradition began in the early 1900's when our ancestors traveled to our high altitude scenic Grand Valley here on the Western Slope of Colorado. After the long journey from Iowa to Palisade in 1907, our great-great grandfather, Joseph Evan Yeager, planted some of the early orchards in the mineral rich alluvial soils in this region. Since then, we have grown the business to what it is today; which included incorporation in 1965 and more recently foregone some entity restructuring to ensure that Talbott Farms is here for years to come. Today we are lucky to have our 6th generation of Talbott's embracing our family traditions and learning the industry. Watch a short video about us and our history: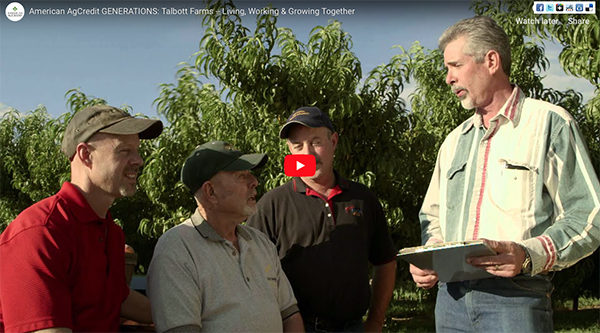 Wine Grapes
As Colorado's leading wine grape grower, we contract with many wineries. We grow several different vinifera and hybrid varieties, including Cabernet Franc and Riesling, varietals that grow exceptionally well on Colorado's Western Slope, benefitting from our surrounding high desert terroir, daytime warmth and cool, nightly canyon breezes. These conditions produce distinctive, fruit-forward wines on par with leading viticultural areas.
Our Products
Talbott Farms produces several food and beverage products. At our Farm Market & Tap House you can find an assortment of fruit and food products produced by our family. Beverage brands include Mountain Gold and High Country apple juices and ciders and Talbott's Cider Company (craft made hard ciders). Please visit us.